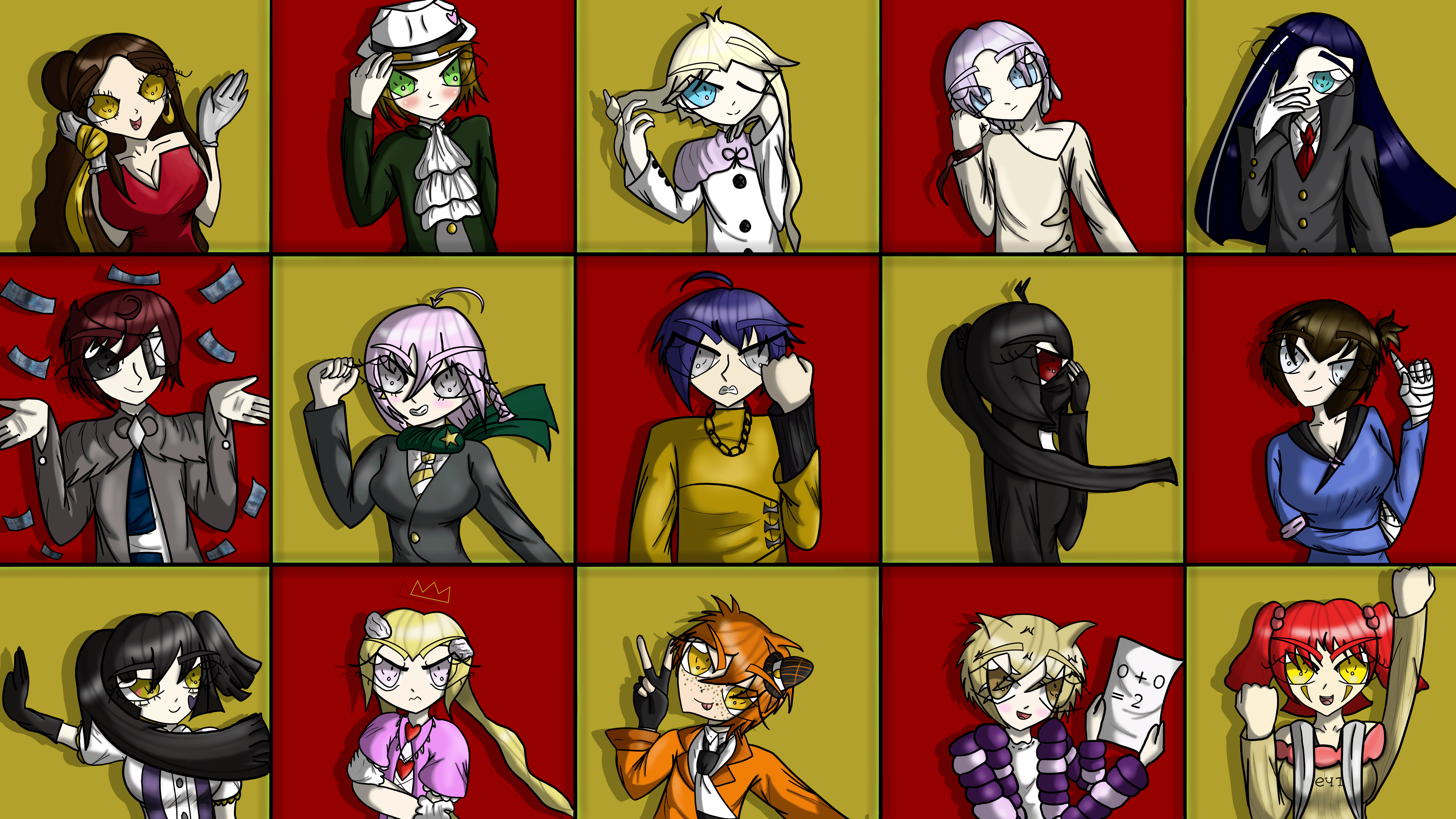 Last One Standing: Royal Massacre
A downloadable game for Windows, macOS, and Linux

Welcome to the Royal Competition of Death!
About
Last One Standing: Royal Massacre is a psychological horror/murder mystery visual novel that puts a dark twist on the classic no-escape storyline. Waking up in an unnervingly luxurious facility with no memory of actually arriving is only the first of the many horrors waiting to greet the fifteen unconnected victims of a strange, strange crime. The pieces only fall into place once they are introduced to a mysterious man with even worse intentions. He refuses to reveal his name or his motivation—only his supposed title, "the King of the Competition"—but is clear on his terms: the "Court" he's gathered must participate in the Royal Competition of Death, a challenge in which they will be forced to murder each other until one remains. The blessed, cursed last one standing, the sole person who will be granted the right to escape.
Synopsis
"Only one may remain..."
Kostya Evanoff is horrified when he wakes up to find himself in a pitch-black room, completely unlike anything he's ever seen before. However, this is hardly the beginning of his nightmare. As he leaves this mysterious area, he only continues to find more and more bewildering sights, as well as fourteen unfamiliar people, but none of it compares to the shock of realizing where, exactly, he is: a castle in modern-day Russia.
The second piece of this puzzle falls into place when he meets the man behind it all: "The King of the Competition," the leader of an enigmatic organized crime group that has been targeting the fifteen children for an unknown length of time, and for unspecified reasons. All he shares is his plan to host what he has titled the Royal Competition of Death, a murder-based challenge where the only way to win is to be the last person left alive—though the question of why remains unanswered.
With the "Court" pitted against one another, the logical next step is entirely unclear. Should they work together, mend the ties that the King shattered and search for a way out, or divide in hopes of protecting themselves? Both options seem to come with dangers that outweigh the benefits, especially once the competition begins at last.
As stress and intensity rise, Kostya's resolve cracks, his desire for answers and for freedom sending him spiraling into a state that quickly seems beyond reversal. And when truths come out, betrayals shake the foundations, and uncertain enemies begin to present themselves within the Court, the line between perception and reality only continues to blur.
Who will be the last one standing?
Gameplay
Though this is a visual novel, we do try to make it as interactive as we can. Through dialogue options, menu choices, and floor maps, the player is given control of the protagonist, Kostya, in many ways, and is granted freedom to choose their own responses on many occasions, as well as where they would like to go and who they engage with. The prologue largely contains just maps and exploration functions, with dialogue options scattered throughout, but several new features, such as the Intermission events, are introduced in the first chapter.
An example of the Intermission feature from chapter one
One of the many maps that allows Kostya to move through the castle
The conference, however, is even more engaging. Serving as a debate in which the player must draw a conclusion about the events of the game leading up to that point, it is filled with different dialogue choices, memory tests, typing prompts, and minigames of all sorts. The types vary between situations and chapters, but the entire part functions on a point-based system, through which the player can also get a game over, forcing them to begin again from their most recent save.
That being said, despite this, the game follows a completely linear story. As in, though the player has freedom to make decisions and impact minor events, the overall results will be, in most senses, the same. There are many opportunities to take control, to choose where to go and what to do, so though they may not be too significant in the grand scheme of things, they create a more open and interactive environment for the player.
Language Options/Варианты языка

-English (default)
-Russian/русский
To switch the language, go to the main menu, select Options, then go to the Language menu and click your preferred language.
**Notice: The Russian translation is temporarily unavailable. We apologize for any inconvenience.**
Warnings
This game contains:
Flashing/flickering/shaking images
Depictions/descriptions of death and murder
Graphic displays of violence
Excessive strong language
Frequent references to murder, suicide, etc
Significant focus on sensitive subjects such as loss, grief, trauma, etc
Sexual references & humor
Play at your own risk.
Additional Note
Last One Standing: Royal Massacre is not a short read. In its entirety, we predict that this game will reach over 60 hours in length when it is complete, with each of its six chapters being around 10 hours (though this measurement depends on the player's reading speed). To those who are looking for a fast-paced, suspense-driven murder mystery, this is not the game for you, as, while it begins more quickly, it eases into a slower and more thorough pace as it progresses on to allow for the development of a solid, multi-layered plot and complex characters (both major and secondary), rather than focusing only on the main events and exciting moments.
Credits
Crimson Sugar Studio Team Members
Mist - coding, music, writing, plot, character design & creation
Dani - character art, background art, writing, plot, character design & creation

Voice Actors
Sean Madson - voice of Kostya
Mintskos (Ava) - voice of Olesya
K.AraVA - voice of Arina
Joshua Gallagher - voice of Iona
Astra Orion - voice of Lanassa
Jerron Bacat - voice of Lavrenty
Jet_VA - voice of Mikhail
LynnVA - voice of Sasha
Mikey Luna - voice of Fadei
GaAFfe - voice of Valeri
Kristen Erridge - voice of Sabina
Anthony Rodriguez - voice of Kuzma
Falon Echo - voice of Antonina
Bianca Shaw - voice of Yana
Zel Tracey - voice of K
Norm L - voice of the King
Other Associates
BlindedByJustice - Russian language translator
Contact Us
Studio Twitter - @crimsonsugarstd
Mist's Twitter - @queenmistcss
Dani's Twitter - @queendanicss
Email - crimsonsugarstudio@gmail.com
(If you have any questions, comments, or concerns, feel free to reach out to us through any of the methods listed.)
Please Note
If you are playing this game for the first time, we STRONGLY suggest that you refrain from looking through the game files, specifically the image files. They may contain MAJOR PLOT SPOILERS, which we advise you to avoid until you have completed all that is available of the game.
Finally, a minor disclaimer. While we own all of the characters and story elements, we do not claim ownership to the works and subjects referred to within this material. None of the real-world companies, products, and establishments mentioned throughout the project belong to us, and we have no association with the production or management of them.
Download
Comments
Log in with itch.io to leave a comment.
Lots of care went into this, and it shows!
Really well written and the art is enjoyable! Clearly a lot of work went into this and the characters are have rlly fun and unique designs! Highkey would recommend, it was a blast playing!
Love the pacing of the story and character design. The soundtrack is also fitting! You clearly put a lot of effort into this game! 10/10 reccomend